We are a UK baseball caps manufactures and stockists. We have one of the largest ranges of stock in the UK that are stored in our Rotherham factory.
Euro Cap Ltd. was established in 1997 with one simple goal, to produce high quality, good price headwear and promotional clothing.
From our origins in Hong Kong to the streets of London the same ideals still remain. We like to think we are the worldwide family business.
Big enough to supply your demands, small enough to care. Lifestyle, Brand and Function.
We specialise in screen and digital printing, embroidering and knitting.
As well as personalised baseball caps we can customise any other garments that you require. Whether you send in your own garments to be decorated by us or you order garments from our online brochure you will receive the same high quality service.
Whether you require standard embroidery, appliqué, woven badges, 3D, metallic or high visibility we do them all.
At Euro Cap Ltd we care about the quality and speed of our embroidery. With over 20 years' experience our team is always happy to help and advise the best methods possible to achieve the high quality finish that our customers are looking for.
​
As you would expect, Euro Cap Ltd are experts on the decoration of caps. This is something most other embroiderers find very difficult, or just choose not to do. Combined with our high quality stock headwear, it ensures they look as good as they can be without going to full bespoke production.
We only use the latest Tajima machinery to ensure the quality is the very best it can be on the market. With over 50 heads in production at any one time, our capacity is large enough to cope with most demands, but small enough to care.
Many people are not aware that we embroider for everyone, caps or clothing. We have many clients that use our full service of clothing and decoration option and allow us to organise everything. There are others who send us their own clothing and we only decorate for them. Both options are treated with the same high standards.
Euro Cap Ltd has its own in-house screen print and digital print department. With extensive experience in the print industry our staff has the knowledge to cover all printing that you will ever need. Here are the various methods and a short explanation about each one, we hope you find this helpful in choosing your preferred method that suites your needs.
Screen printing is a printing technique that uses a woven mesh to support an ink-blocking stencil. The attached stencil forms open areas of mesh that transfer ink or other printable materials which can be pressed through the mesh as a sharp-edged image onto a substrate. A squeegee is moved across the screen stencil, forcing ink past the threads of the woven mesh in the open areas.
At Euro Cap we are set up for all your screen printing needs to decorate garments such as t-shirts and jackets to the more unusual like umbrellas!
We also have flatbed print table equipment which enables us to print our own transfers to be pressed on to bags and other garments that are not so easy to screen print.
Applique'
Logo Embroidered
Printed Lining
Knitted Scarf with Logo Embroidered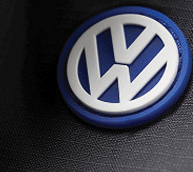 PVC Patch
Knitted Scarf
Polo Embroidered
Woven Taping
Madeira
Tajima
Tajima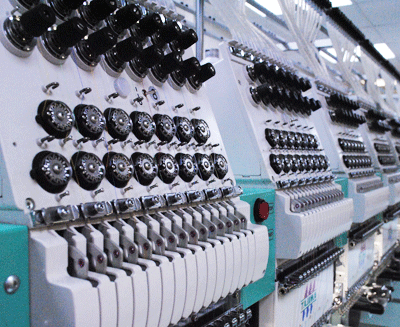 Tajima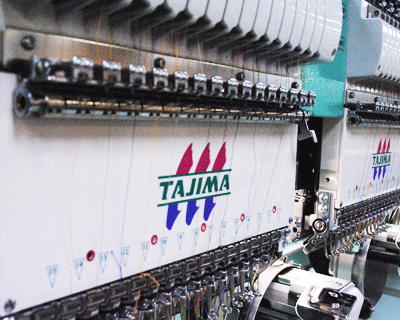 Tajima
Transfer printing is a simple method of printing using a transfer and a heat press.
The transfer is printed with a heat activated adhesive and when this comes into contact with a heat press it causes the transfer to bond with the garment or item that is being printed.
At Euro Cap we have the capability to print our own full colour transfers. These can be printed directly onto most garments such as Caps, t-shirts and jackets etc.
Transfers are often an alternative to using screen print when order quantities are low and/or the design that is to be printed has many different colours in it.
A dye-sublimation printing (or dye-sub) is a computer generated transfer which employs a printing process that uses heat to transfer dye onto materials such as a plastic card, paper, or fabric.
The sublimation name is applied because the dye transitions between the solid and gas states without going through a liquid stage.
This process allows photo quality digital images to be printed direct to fabrics without losing any sharpness of the original image.
At Euro Cap we are set up for large format digital sublimation; we have the ability to print large flags and scarves up to a meter and a half wide. Our design team are able to take your design concept and either produce the artwork needed from scratch or manipulate your artwork to fit our transfer templates.
Euro Cap Ltd has its own in-house Santoni knitting machine and can produce a wide range of knitwear styles for men, women and children, from hats to scarves. All garments can be customized to your specifications.
FM 72445
BS EN ISO 9001-2008
In 2003 we achieved ISO 9001 status covering all our embroidery production. This was followed in 2008 by the certification being updated to cover all our knitted products and printed products. We work very hard to ensure the standard is kept on all products.